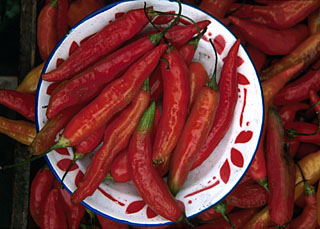 HOT CHILIES
Ecuador 23-913
Photograph by Tass Thacker

One of our favorite things to do while traveling is to shop in outdoor markets.

Many villages have weekly markets, where farmers and vendors set up small booths, or sometimes lay out items they are selling on a tarp on the ground.

Garden produce is often artfully displayed, stacked or balanced in piles, creating colorful rows of food for sale.

These spicy chili peppers taste as good as they look.