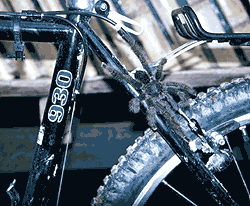 A tarantula crawls across the frame of Bruce's bicycle.

During our time in the Amazon Basin of Ecuador we spend a week traveling with Luis Garcia, who owns Emerald Forest Expeditions. Luis is the best guide we have during our time in the rainforest, and quickly becomes a good friend.
We bring our bikes with us as we canoe with Luis down the Rio Napo River.

In the evenings Luis and his partner, David Chongo, ride our bikes along the rainforests paths. They are quick converts to cycling.

After we finish biking through the rainforest we give Luis and David a super buddy deal and sell them our bikes cheap.

We love knowing that our Trek mountain bikes are still being ridden today out in the rainforests of the Amazon Basin!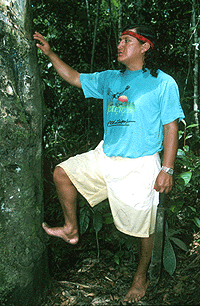 Luis Garcia has spent his life learning about the rainforest. He tells us the bark of this tree can be used to make a natural birth control.