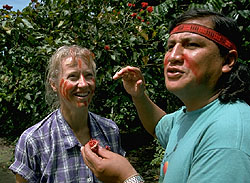 Tass wears a Patagonia AC shirt while being "initiated" into the Amazon rainforest by our friend, Luis Garcia, Ecuador.

Luis uses paste from the achote plant to mark his face, and then laughs and jokes as he marks us. Notice he puts much more on Tass than he uses on himself. Later, when we try to wash it off, the paste smears all over our face and hands, staining our skin. Only then does Luis tell us the achote paste is used in the US cosmetic industry for making lipstick.
Patagonia has set the standard for indestructible, functional outdoor clothing for over 25 years.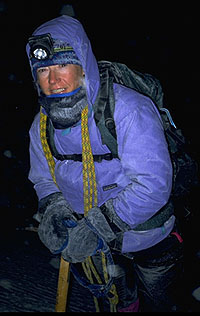 Tass stays toasty warm in Patagonia capilene, fleece and jacket while climbing 19,342-foot Cotopaxi Volcano, Ecuador.