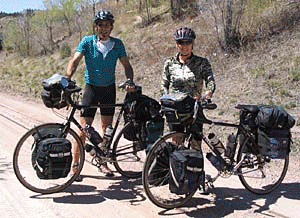 All loaded for a test ride. For this trip we are leaving our mountain bikes at home. We will using Trek 520 touring road bikes that are lighter and faster with less rolling resistance because of their higher pressure tires.
May 3--Bike Testing Our Trek 520s

Just came down from our garage after putting the final touches on our Trek 520 road bikes. The luggage racks are all on, along with kickstands, bells, mirrors, all the touring gear we don't have on our normal road bikes.

Our first test spin is quite comical. We ride five feet, stop and adjust something, ride another five feet and stop again, and again, making adjustments. After 30 minutes we are finally riding. The bikes feel great. We spent lots of energy this winter going through all our gear and getting everything as light as possible. We haven't traveled this light since our Central America bike trip in 1991.

So then we ride back to our garage and pick up the extra water we will need to carry through the Great Western Desert of Egypt. I load up 5 gallons onto my bike--an extra 45 pounds! Suddenly my lightly packed bike becomes a tank. But it is still rideable, and we don't have any big mountains to cross while we are carrying all that water. Tass carries 3 gallons, which together is the amount we will need for just ONE DAY--four gallons per person--a total of eight gallons each day for both of us. Luckily we will be drinking the water as we ride, so even by mid-day our bikes will begin to lighten back up.

Yahoo! In just a few days we will be riding in Africa!