African Great Rift Valley
Before Bruce and Tass meet, Tass spends a winter traveling in South America with her friend Suzanne, and Bruce travels through Africa with his sister, Bobbi.
The photos and stories on this page are from Bruce's first African adventure in 1974.
****
After graduating from high school I work as a carpenter, ski patrolman, and oil field roustabout to save money for my first big trip.
Along with my sister, Bobbi, I join an expedition taking a four-wheel drive truck and Land Rover across Africa, where we hope to see remote parts of Africa that not many travelers visit.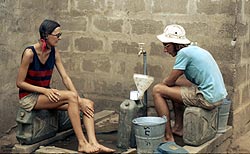 In the Sahara Desert, Bobbi and I spend half a day filling water containers from a tiny trickle of water--the only water available in a small oasis in Niger.
During our three weeks in the Sahara, Bobbi gets amebic dysentery. Above, she is feeling better and beginning to gain back weight and strength. A few days later I get dysentery, and our truck breaks down for nearly a week, alone in the desert.