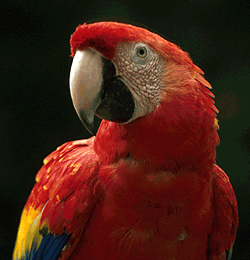 The scarlet macaw is one of the world's largest parrots, over three feet long. Macaws are loud, raucous birds who love to squawk at one another. Like most parrots, macaws usually mate for life.
Besides birding and learning about rainforest, we are excited to learn about the Maya Indians.
The Maya built huge cities and pyramids throughout Mexico and Central America. The pyramid of Kukulcan at the right is in Chichen Itza, Mexico, on the Yucatan peninsula.
The classic period of the Mayan civilization was from 250 AD to 900 AD.
Most of the ancient Maya cities were abandoned over a thousand years ago.