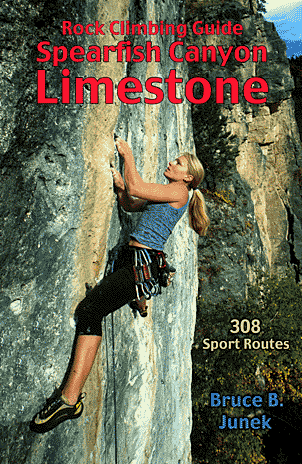 Heather Heynen on Blood Brother 5.11d
Just published in August 2003

$14.95
If you buy the book off this website, $3 from each book will go toward the Spearfish Canyon Bolt Replacement Fund.

Buy the book at a climbing shop and $1 from each sale still goes to the Bolt Replacement Fund.
The Black Hills has long been associated with world class climbing on picturesque granite spires. Now we have world class limestone climbing in Spearfish Canyon—tons of classic pocket climbing with monos to big jugs, plus in-cuts and edges, sidepulls, pumpy routes, slabs, steep walls, balancey routes, overhangs, bulges, roofs, cracks and flakes!

With nearly year-around climbing (about 10 months out of the year), Sunshine Wall is destined to be the premier winter climbing area in Black Hills.

Enyoy a wide variety of grades, 5.6 through 5.13c, with lots of moderate climbing: 13–5.8's; 18-5.9's; 54-5.10's; 86-5.11's; 75-5.12's.

Three Forest Service campgrounds within a 15 minute drive of most routes.

One hour from Devils Tower to the west, and one hour from the Black Hills granite of Rushmore and the classic Needles to the south east.

As a Spearfish native and life-long resident of the Black Hills, I am honored to be editing this guidebook to the outstanding, well-protected sport climbing in Spearfish Canyon. I wish to extend a welcome to rock climbers from all over the world.

Climb hard and climb safe!