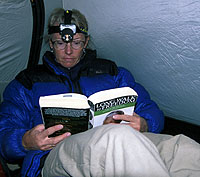 Would you carry a book this big on a bicycle trip? Tass reading the autobiography of Nelson Mandela by headlamp in our tent, South Africa.
Special Offer

and get

FREE SHIPPING!

Images of the World
612 Saint James
Rapid City, SD 57701


e-mail:
iow@hills.net
TO ORDER BOOKS

At this time we do not have a credit card service on our website.

To order an autographed copy of our book(s) just click on order now, print the page, fill in the blanks, and send us a check. Your book will arrive in just a few weeks.

You can also get our books (but not autographed copies) at Borders bookstores, through Borders Books website, at Amazon.com. and numerous other stores.