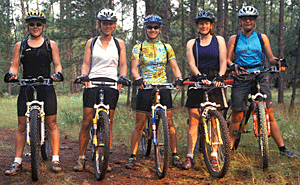 Tass in the center with the Divas
(also known as the Centennial Five),
the first all women group to ride the entire Centennial Trail through the Black Hills.
Tass was in Park City, Utah, at a mountain biking camp with her Diva friend, Cherrie (first on the left in photo).
They were learning new tricks and techniques for dropping off rocks and ledges.
They were required to wear safety pads supplied by the camp that were very large and loose fitting.
On a slow, sharp corner Tass's pad caught on her brake lever. The torque as she fell broke her leg before she even hit the ground.
The moral--safety pads are only as good as they fit.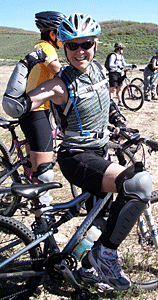 Cherrie wearing the monster pads. Note the excess material above her knee. That is what Tass caught on her brake lever.