November, 2010. We just received a $2500 grant from Explore Fund set up by The North Face to help inspiring students and sow the seeds for the next generation of explorers and adventurers.
If video does not play, watch on YouTube at http://www.youtube.com/watch?v=W3uynqZAz6g
Join www.PlanetExplore.com, a great website which lists outdoor activities and events by region throughout the U.S. for free to get info on a variety of outdoor events--hiking, biking, climbing, skiing, camping, and learning. Get off the couch! Never Stop Exploring!
October, 2010. Our newest program, "Bruce & Tass--Unplugged," is an introspective, philosophical and humorous account of our life and travels.
We answer 25 provocative questions people have asked about our lifestyle, including "Do we have a real job?" and "Do we ever fight?"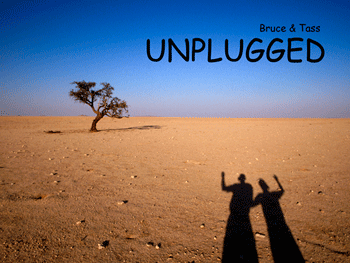 "Unplugged" tells the quirky and humorous behind the scenes stories of our 34 years together--not only the excitement and adventure, but also thoughtful observations about work, play, faith, love, and laughter, and the importance of finding meaning and purpose in life.