The
PIG
HAND
Tass breaks her hand in a bicycle crash along the California coast Feb 2004.

We jokingly call her bruised, swollen hand The Pig Hand.
One week later we spend a week climbing at Joshua Tree. A doctor friend mails us extra cast material to make her a special climbing cast.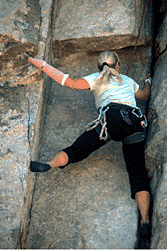 Bruce tapes two little metal prongs on the cast which Tass uses for balance. We call her "The Claw."