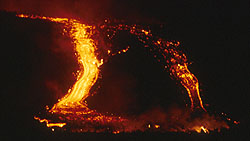 On the back side of the volcano we find two huge rivers of lava, four miles long.

Although the eruption lasts for 20 hours, not enough lava comes out to flow all the way down to the ocean.

Instead, the lava pools at the base of the volcano and begins to cool and solidify, forming new rock-- continuing the volcanic process of island building.