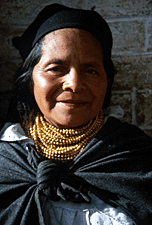 Most of the people living in the Andes mountains are Indians, and many are very poor.

In northern Ecuador we visit the town of Otavalo, an area famous for hand-made textiles: beautiful weavings of blankets, clothes, wall hangings and rugs. Because of the crafts they make and sell, the Otavalo Indians have a higher standard of living.

The women wear beautiful jewelry. Thier necklaces are often made from glass beads, and they have thick red coral necklaces and bracelets. Many people have gold caps in their teeth.

To see more photos click on Otavalo, Ecuador.