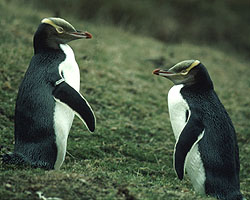 These rare yellow-eyed penguins are about 30 inches tall. The birds on the left has been taged on its wing by wildlife biologists studying thier population and habitat.
Following a tip from a local bird watcher, we get permission from a farmer to camp on a private beach where there is a colony of yellow-eyed penguins.

We bicycle across miles of sheep pasture, then set up our tent and walk down the beach. Using sand dunes for cover, we slowly work our way closer, making sure we are not disturbing the penguins. Unconcerned about us, they continue to preen, so we get even closer.

After making a few photos we back up to give the penguins plenty of room. Late in the afternoon about 150 penguins come out of the ocean, waddle across the beach, and march up into the dunes to spend the night.
For the complete story of our world bicycle trip, read our book:

The Road
of Dreams

A two-year hiking and bicycling adventure around the world.