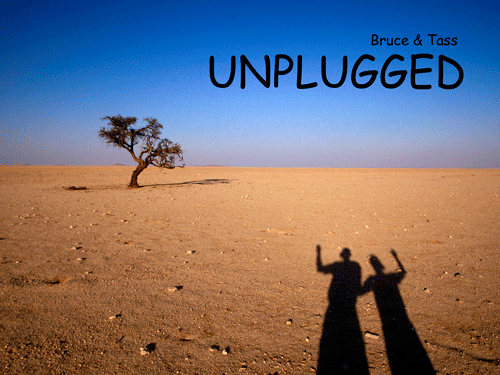 Unplugged tells the quirky and sometimes outlandish behind the scenes stories of our 34 years together--not only the excitement and adventure, but also thoughtful observations about work, play, faith, love, laughter, and the importance of finding meaning and purpose in life.
Striving to meet difficult goals has pushed us to stretch the horizons of what we think is possible.

We share the ways in which obstacles and challenges have made us stronger, and given us confidence to continue setting goals and dreams in our adventures, our business, and in our day to day lives.
Our newest slide program
Bruce & Tass--
Unplugged
is an introspective, philosophical and humorous account of our life and travels for adult and community audiences.
We answer 25 provocative questions people have asked about our lifestyle, including
"Do we have a real job?"
and "Do we ever fight?"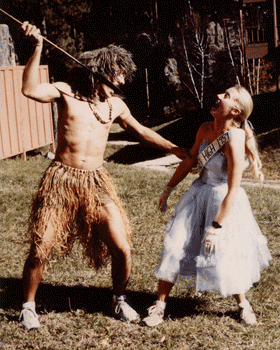 Bruce as the wild man from Borneo, and Tass as a prom queen from Nike High, getting ready for a 10 km Halloween Fun Run in Rapid City.
Unplugged is a 90-minute program which premiered at the Dahl Arts Center in Rapid City on October 1, 2010.
A DVD of this program will be available in the fall of 2011. Check with us for details.
For adult and community programs.