We are in north-central Guangxi province and have cycled into the Dragon's Backbone area to hike for three days in the Longji rice terraces.

We are staying in the village of Huanglou in home of a Yao family (another fascinating minority group) who just built a huge new home. They rent out four rooms on the third floor and we are the only guests, which is very relaxed.
Actually, the family is relaxed. We have been going high speed, marathon hiking through spectacular terraces during the day and non-stop downloading and editing photos and video each evening.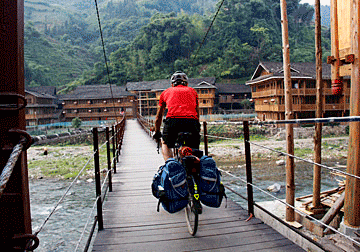 Bruce cycles across a swinging bridge into the Yao village of Huanglou. The family we stay with lives in the large home on the right.